Edwards County Fair Association
The Edwards County Fair Board has purchased the FairEntry online fair entry program. All 4-H and Open Class entries will be made this way.
Open class exhibitors: we will be happy to help you with your entry process either before the fair or at check-in time on Tuesday, July 18 from 5 to 8 p.m.
4-H Exhibitors: you will enter with your 4HOnline account. Your entries need to be completed by JULY 1st. If you need help, we are happy to help you!
The link to the log in page is:http://www.fairentry.com/Fair/SignIn/18348
Board of Directors
President - Lisa Stuckey
Vice President - Corey Kliewer
Secretary - Trista Herrmann
Treasurer - Chauncey Divis
Other members - Kelsey Holguin, Kimberly Stegman, Addie Coss, Matthew Werth, Caleb Heinz
Coloring Contest
Fair Schedule (Click HERE for a pdf copy)
Edwards County Fair Book
2023 Fair SPONSORS -- Thank you to our generous sponsors!
Entertainment
See Fair Schedule and watch Edwards County Fair Facebook page.
Ranch Rodeo & Mutton Bustin'
Parade Entry Form
4-H Entry Forms
4-H Fashion Revue Information Sheet
For direct access to the 4-H Clothing & Textiles and Evaluation Scorecard click HERE.
KANSAS STATE FAIR 4-H CLOTHING & TEXTILES COST PER WEAR FORM
KANSAS STATE FAIR 4-H FASHION REVUE EVALUATION SCORECARD
AUCTION INVITE FOR PREMIUM AUCTION
Booth Space
Do you want a booth at the Edwards County Fair? Use the form to reserve your spot!
SPECIAL CONTEST INFORMATION
A SPECIAL THANK YOU TO OUR SPONSORS
Lego Building Contest: Farmers' Bank & Trust
Rural Life Photo Contest: Rean & Jerri Stegman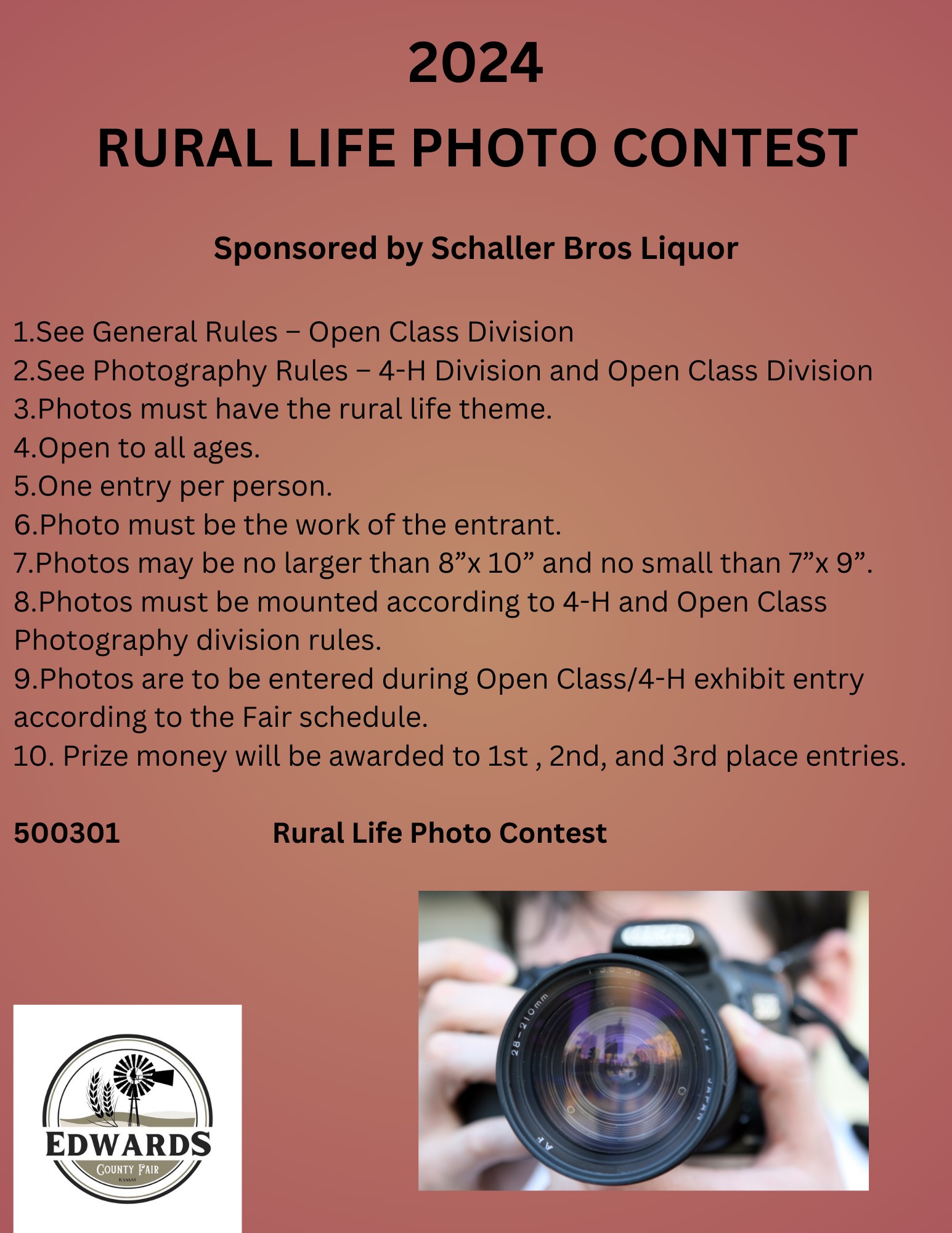 Quilt Block Contest: Bossy Sister Quilting & Crop Pro Ink
Barn Quilt Contest: Country TACS
Youth Photography Contest: Rogers Tires & Repair

THIS YEAR"S THEME: ALL ABOUT SAPPHIRE!!!!
Fairy Garden Contest: Colony Floral & Green House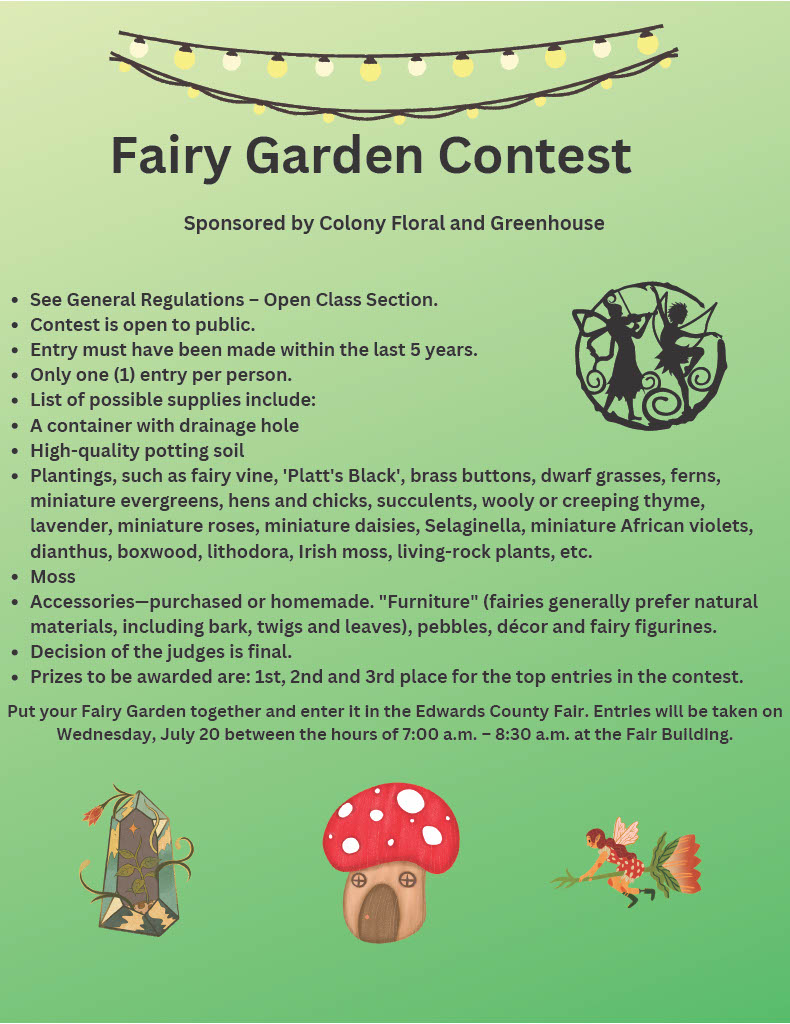 Tallest Sunflower/Largest Flower: Cross Insurance Agency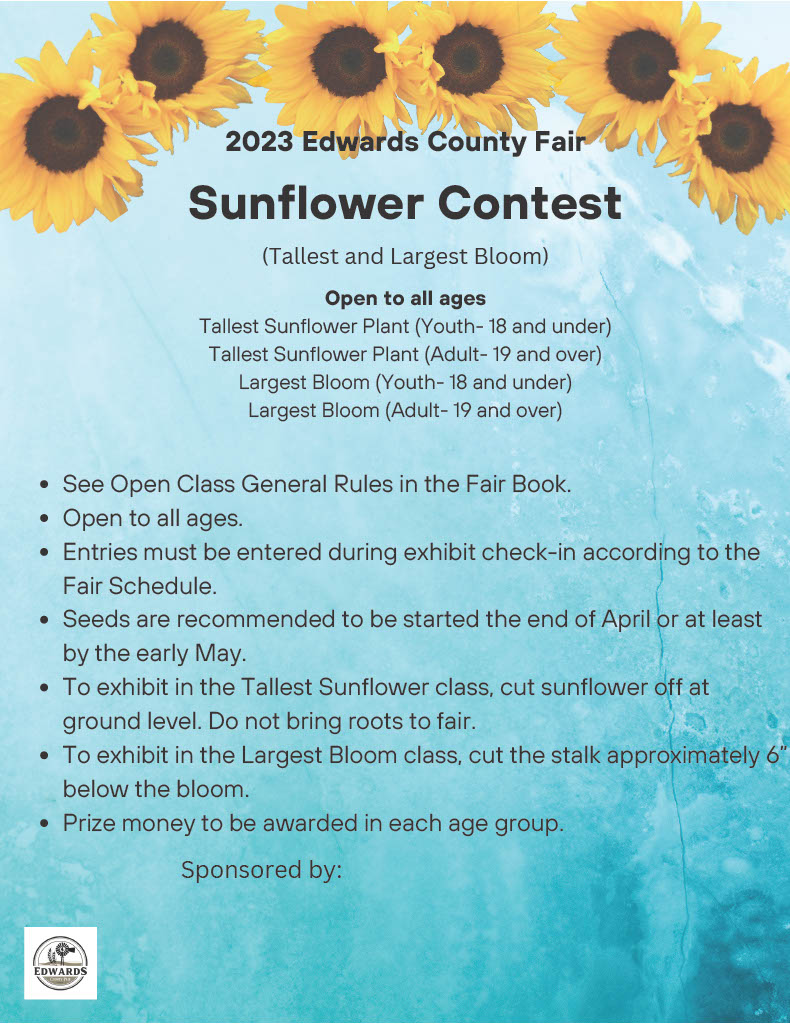 Chocolate Layer Cake Contest: Ladies' League of Edwards County